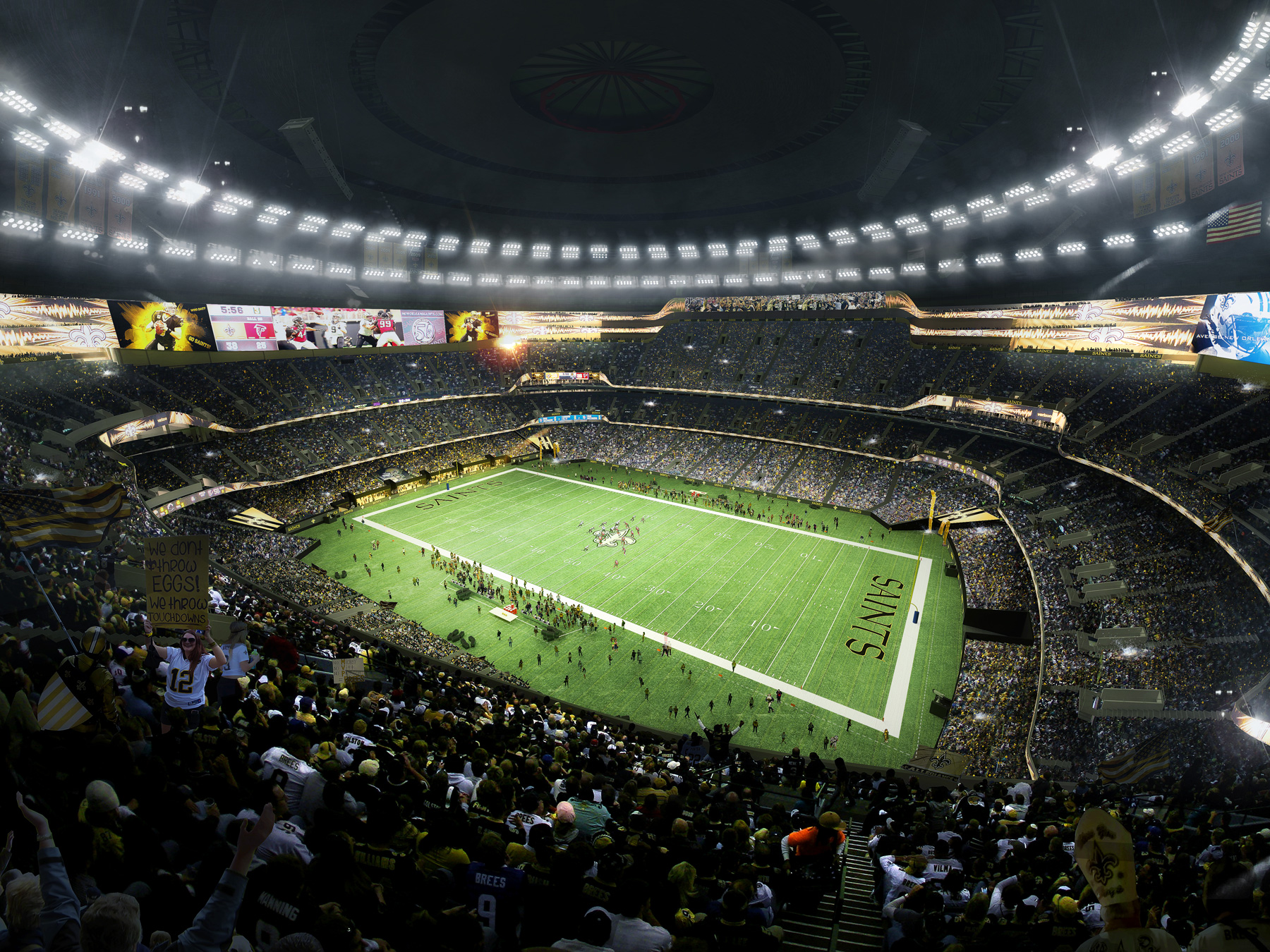 The Caesars Superdome is a 72,000 seat venue that serves as the home of the NFL New Orleans Saints. Trahan Architects was responsible for all design efforts required to meet the Louisiana Stadium and Exposition District's expectations for a $450 Million Master Plan addressing Capital Improvements that focus on the following primary objectives:
Facility and team related revenue enhancement opportunities (or operating cost savings)
Additional branding opportunities
Fan experience and amenities — including application of new technology
Evaluation of various building systems to determine useful life and timeline for required replacement
Caesars Superdome will host all Saints home football games, and Super Bowl LIX to be played in February 2025. The building will also host the 2022 NCAA Men's Final Four, the annual Sugar Bowl and College Football Playoff contests, a variety of concerts and hundreds of other annual events including Essence Festival, the Bayou Classic football game between Grambling State and Southern University, the New Orleans Bowl, and the Louisiana State High School Athletic Association Football Championships.
Location
New Orleans, Louisiana
Status
2016 – Present
Size
Campus: 2,265,120 SF
Roof: 440,000 SF
Event Floor Area: 166,180 SF
Building: 1,989,807 SF (total occupiable floor space)
Grand Total Renovated: 1,935,125 SF
Project Team
Trey Trahan, Brad McWhirter, Nathan Petty, Sean David, Oana Bunea-Velea, Kyle Culver, Robbie Eleazer, Conner Bryan, Drew Hutcheson, Kim Nguyen, Charles Weimer, Sarah Cancienne, Katie McBride, James Babin, Jonathan Fidalgo, Travis Lombardi, David Schneider, Sheena Garcia, Shaheen Namvary, Ciaran Conlon, Maria Vlagoidou, Elaina Berkowitz, Rebecca Gillogly, Tony Schonhardt, Ana Durao, Ryan Barnette, Henry Savoie, Nader Wallerich, Bruce White, Stephen Breaux, Jason Kurzweil, Gabriela Calzada, Matthew Rivera
Collaborators
Gensler Sports, Howe Engineers, Thornton Tomasetti, Julien Engineering, WJE Associates, Henderson Engineers, ADG Engineering, HLB, WJHW, J&A Engineering Consultants, S2O, HKA Elevator Consulting, Infinity Engineering Consultants, Reed Hilderbrand, Infinite Scale, Construction Specifiers Inc., Rider Levett Bucknall, Zelus, Forte & Tablada, Lourie Consultants, Parallax Team, Digital Node
Tags
Featured
,
Athletics
,
Hospitality
,
Performing Arts
,
Openness
,
Rootedness
Trahan Architects has appreciation for the city, they have an appreciation for the building and for the past. They really take that into account when they're doing their work and bringing solutions to the table.
Trahan Architects is currently engaged in 'Phase 3' of a multi-phase interior renovation of this historical building which consists of the interior renovation of approximately 89,300 square feet of the 1,989,807 gross square footage of occupiable floor space. Across five years leading up to Super Bowl LIX in February 2025, an expansive interior overhaul will be carried out to enhance the quality of game spectatorship, food service and hospitality services and the overall patron experience.