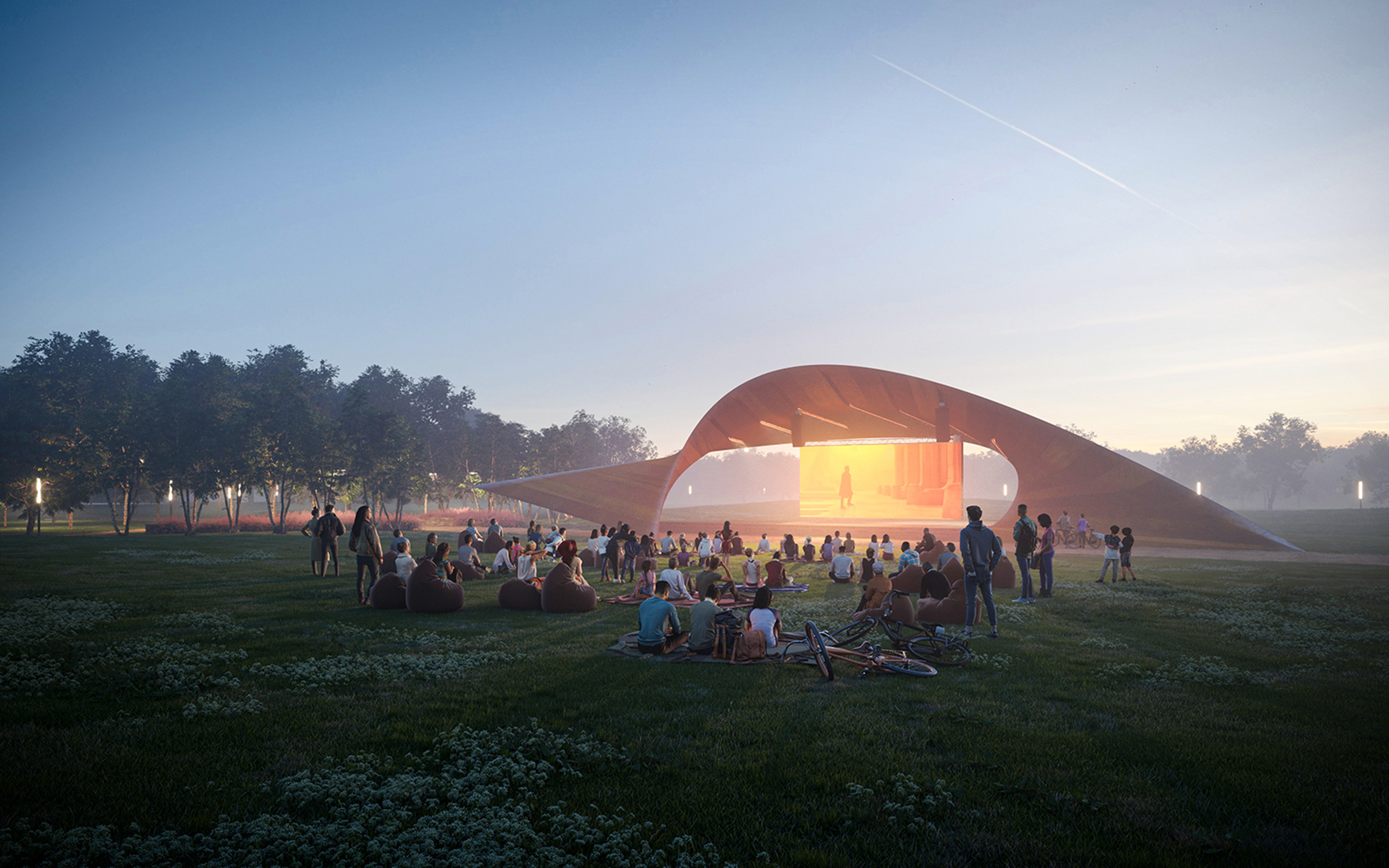 Designed in collaboration with landscape architects Spackman Mossop Michaels, Luther George Park is conceived as a connective gateway bridging the active corridor of the Razorback Greenway with the main street life of Emma Avenue. Set along Spring Creek in Downtown Springdale, Arkansas the park fosters healthy community engagement by providing a sustainable venue for recreation, play, and outdoor performances. Trahan Architects is responsible for the design of the Performance Pavilion and the Restroom Pavilion.
The Performance Pavilion is located on the park's central axis – the dynamic form twists and straddles the pathway to form an inviting gateway into the park. Fronting the great lawn, the pavilion will host performances of up to 3,000 people. The shell leans back toward the earth fronting the small lawn which enables small events like movie night in the park to occur for 50-100 people. This innovative dual sided arrangement is achieved by integrating all of the performance power and theatrical rigging into the shell – allowing for a myriad of flexible uses. When not hosting a performance, the shell acts as a shade canopy welcoming the community to gather beneath it's sculptural wing-like form. A curving ramp and earth berm along the stage's back edge seamlessly blend the platform with the landscape – providing everyone with equal access.
Location
Springdale, Arkansas
Status
Ongoing
Estimated Completion 2024
Size
5,200 GSF Performance Pavilion Canopy
2,300 GSF Stage Platform
400 GSF Restroom Pavilion
Site Area
14 Acres
Project Team
Trey Trahan, Leigh Breslau, Kevin Thomas, Robbie Eleazer, Jonathan Fidalgo, Jarri Hasnain, Sarah Cancienne, Ryan Barnette
Collaborators
Spackman Mossop Michaels, Spectrum Design Consultants, Threshold Acoustics, Schuler Shook, Olsson, CIG Architecture, Eleven Visualisation
Stakeholders
The Downtown Springdale Alliance, Walton Family Foundation
Awards
American Architecture Award, The Chicago Athenaeum, 2021
AN's Best of Design Awards, Honorable Mention in the Unbuilt Cultural Category, 2021
AIA New Orleans Design Awards, Merit Award for Unbuilt Architecture, 2021
Tags
Featured
,
Cultural
,
Performing Arts
,
Atmosphere
,
Materiality
,
Openness
The shell of the performance pavilion is constructed from 10mm thick weathering steel sheets by CIG Architecture – the fabricators of many of Anish Kapoor's sculptures. The raw steel will patina with time to reveal the nuances of the environmental conditions amplified by the torquing geometry – taking on a rich and earthy finish. The roof of the pavilion is controlled by a ruled surface whose rule lines define the panel joint layouts. The underside of the pavilion has a variable section which smoothly integrates the structural depth, the performance integrations and the acoustical perforation. Together, the two surfaces achieve an impressive 150' span with only 2 connections to the ground – making the structure appear weightless.
"The Downtown Springdale Alliance is thrilled with the work of the design team of Trahan Architects and Spackman Mossop Michaels. Luther George Park redesigned will be transformative to the beautiful diverse culture and vibrancy of downtown Springdale."